If you're a frequent reader (
sorry, I haven't given you much to read in the last couple of months
), I'm sure you've noticed that not only do I love to create and adapt new things in my kitchen (
by taking inspiration from a recipe because I couldn't follow one verbatim to save.my.life
), you probably also know that I *
love
* Chef Michael Smith...
So, when
Speedy Moroccan Zucchini & Couscous
came up while I was perusing his website, I.had.to.try.it...with my own personal twist (
because I'm sure I've never, ever mentioned this before... but I, uhhhhh, can't follow a recipe, seriously... I can't...
)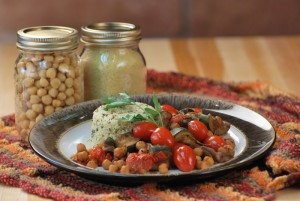 Photo courtesy of:
http://chefmichaelsmith.com/Recipe/speedy-moroccan-zucchini-couscous/
My plating did not look nearly as awesome
Serving: 4
Ingredients
For the Zucchini:
2 tablespoons olive oil
4 small zucchini, chopped
4 cloves garlic, peeled and chopped
1 teaspoon cinnamon
*
didn't use at all...
1 teaspoon ground cumin * didn't have any on hand (whoops, may need to restock my pantry)
1-19 oz can chick peas, drained and rinsed
1 pint Cherry Tomatoes * used one vine ripened tomato
1-2 sprinkles salt & lots of freshly ground pepper
1 red onion, sliced
My zucchini additions:
1tbsp Italian seasoning
2 tbsp chopped basil
1/4 cup chicken stock
1-2 cups spinach
For the Couscous
1 lemon, juiced and zested *
1 lemon, juiced and zested *
1 tablespoon extra virgin olive oil *
A bunch of fresh parsley, chopped *
1 cup couscous *
So, I used Casbah Lemon & Spinach couscous because I may have forgotten to pick up some lemons and parsley (and I had some sitting in my pantry)...
Instructions
Make the couscous first. Simmer the water with the lemon juice and zest. Pour in the olive oil, stir in the couscous and parsley. Cover with a tight fitting lid and wait 5 minutes or so.
Splash the olive oil in the bottom of a large saucepot and heat over medium-high heat. Toss in the zucchini, onion and garlic. Sauté and stir in
basil and Italian seasoning
. Cook until the vegetables begin to soften. Fold in the chickpeas and tomatoes and heat through. Season with salt and pepper to your taste.
Toss in spinach just before you're ready to serve (so it just slightly wilts)
Serve and share!
As seen on Chef Michael Smith's Kitchen
© Chef Michael Smith
All-in-all, this was an absolutely delicious meal... I made enough to have leftovers as lunch the following day but there wasn't any left over (
that's how you know it's good... when you can barely resist licking the plate
). We've definitely added it to our "make again" list.